The GAP model

The figure below shows the "GAP" model of service quality from Parasuraman et al. (Zithaml & Bitner 1996). This model offers an integrated view of the consumer-company relationship. It is based on substantial research amongst a number of service providers. In common with the Grönroos model it shows the perception gap (Gap 5) and outlines contributory factors. In this case expected service is a function of word of mouth communication, personal need and past experience, and perceived service is a product of service delivery and external communications to consumers.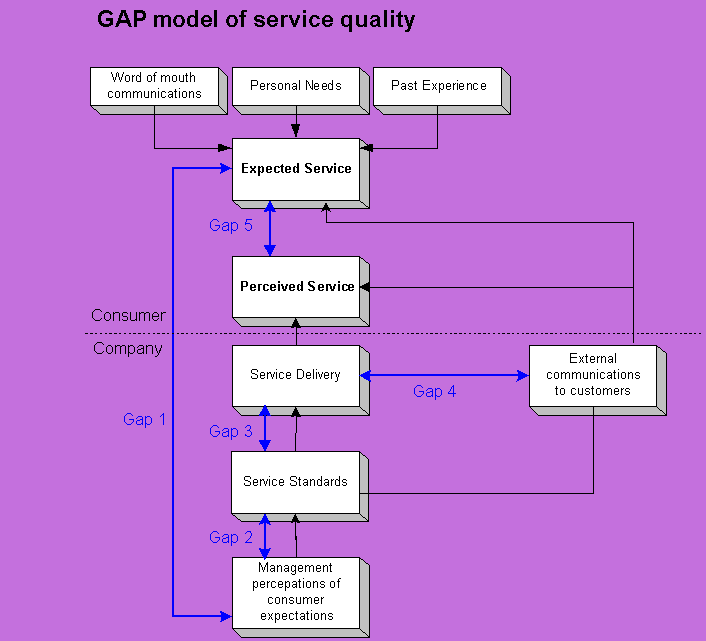 Parasuraman et al. GAP model (Zeithaml 1996)
However the GAP model goes further in its analysis of these key contributory factors. It not only provides a more rigorous description of the contributory Gaps, it lists key drivers for each gap and generic breakdown of each of these drivers. These are illustrated below in summary form below.
Gap 1
Inadequate market research orientation
Lack of upward communication
Insufficient relationship focus
Gap 2
Absence of customer driven standards
Inadequate service leadership
Poor service design
Gap 3
Deficiencies of human resource policies
Failure to match supply and demand
Customers not fulfilling roles
Gap 4
Ineffective management of customer expectations
Overpromising
Inadequate horizontal communications
Key factors in the GAP model (Zeithaml 1990)
This level of detail allows powerful analysis of the contributory factors to a perception gap at a practical level. The model shows the importance of marketing, business leadership quality and HR systems in the management of the expectation gap.